Resume of the last Committees
In compliance with national regulations and for the first time in the organization's history, the Members of the MEDports Association held all the technical Committees online.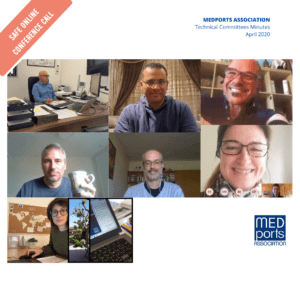 The Relations with International Institutions' Committee (April 6th) was delighted to welcome our two new Members: the IMFMM and Igoumenitsa Port Authority. Unfortunately, and due to the current situation, the postponement of the MEDports Forum 2020 has been decided. Although the date has not been fixed yet, new information will soon be published.
The SmartPort Committe (April 6th) discussed the organization of the first SmartPort Innovation Challenge of the MEDports Association, that will be launched this summer. Moreover, they discussed the results of the survey about innovative governance in Med Ports, that will soon be published.
The Statistics and Market Analysis' Committee (April 6th) has worked on the KPI collect method to present the KPI brochure of the MEDports Association. They finalized the compliance of the Ports Members' traffic for the years 2018 and 2019. Results will soon be published.
The Sustainability Committee (April 14th) discussed about the postponement of the ECA seminar. The new date will depend on the evolution of the crisis. The Committee is working on new and previous surveys, some of which results will soon be published. Finally, the Members are writing a common paper about MEDports' position about SECA in MED.
The Employment, Training & Maritime Expertise Committee (April 15th) are organizing the upcoming training seminar in November depending on the evolutions of the situation. A new brochure with the online courses of our institutes will be published. The result of the survey about the most demanded profile in maritime sector will soon be published, such as the information about the upcoming SmartPort Innovation Challenge.
Furthermore, all Members are very happy to exchange with another during this difficult time. According to the very special period, next meetings will soon be planned to continue the internal projects. Stay safe!