After the General Assembly of December 2020, which saw the admission of the Port of Sète (France) into the Association Members, a new general Assembly had to be gathered in consideration of pressing issues.
This General Assembly has also been exceptionaly short, as 2 projects had to be presented and voted. Both were luckily voted at the unanimity, because it meets the MEDports aims of furthering cooperatio
n and business opportunities in the Med area!
– Validation of the Training Program designed by the Training Committee of the MEDports – a new Training program with our 5 partner Training Centers (L'Institut Méditerranéen de Formation aux Métiers Maritimes -IMFMM, L'institut Marseille Fos, Port Training Institute, Escola Europea, Foundation Valenciaport) that will provide ports of the Mediterranean with needed expertise not covered by present training. This Training program was tailored thanks to a survey of the Committee in the Med Ports inquiring for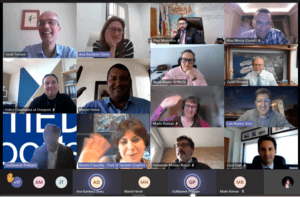 the most researched profiles. First courses in June 2021!
– Adhesion of a new Member, the first Member from Albania and the main gateway to this Adriatic country, represented by Sonila Toska, Director of Communication, Promotion and Foreign Relations: Welcome to Durres Port!
We were also honoured to see the President of the Association and President of the Port of Marseille Fos, Hervé Martel; Dimitrij Zadel, President of Port of Luka Koper; Mahmoud Bouziri, CEO of the OMMP (Office de la Marine Marchande et des Ports); and Pino Musolino, President of the Port of Civitavecchia during the GA.