The MEDPorts Forum 2022 will be a place of gathering and exchange of opinions, ideas and best practices among the representatives of the international institutions, experts of maritime transport and port activities and leading port members in order to assist Mediterranean ports in building a resilient, progressive and vibrant maritime sector through the use of digitalization.
Since several years now, and especially since the beginning of the Covid-19 crisis, digitalisation has clearly emerged as one of the key drivers and pillars for the development of a more sustainable and resilient global shipping industry. With a successful digitalization in connected smartports, the objectives of the green transition for the world maritime transport could be achieved.
Widespread awareness of climate change, the need for greater safety and security in port operations, but also the race for greater logistical efficiency have led to the emergence of many digital-related initiatives and projects around the world. These initiatives, projects and innovations have been widely supported and encouraged by international institutions and by international trade actors across all the continents. As a maritime space connecting three continents and a true crossroads of international trade, the Mediterranean is at the heart of this digital revolution.
It was time for the MEDports Association, which today gathers 23 major Mediterranean ports, representing more than 70% of the total traffic in the Mediterranean, to take up this issue. It is therefore proposed by the MEDports Association with the support of prestigious international organizations such as IAPH, the World Bank to examine the state of the art of digitalization in the Mediterranean, its challenges and key success factors. Through concrete testimonies, reflections of experts and positioning of international organisations and institutions, the MEDport Forum 2022 is an incredible opportunity for all the actors of the world maritime transport to update their knowledge, to exchange their best practices and to project themselves in the world of tomorrow.
save the date medports forum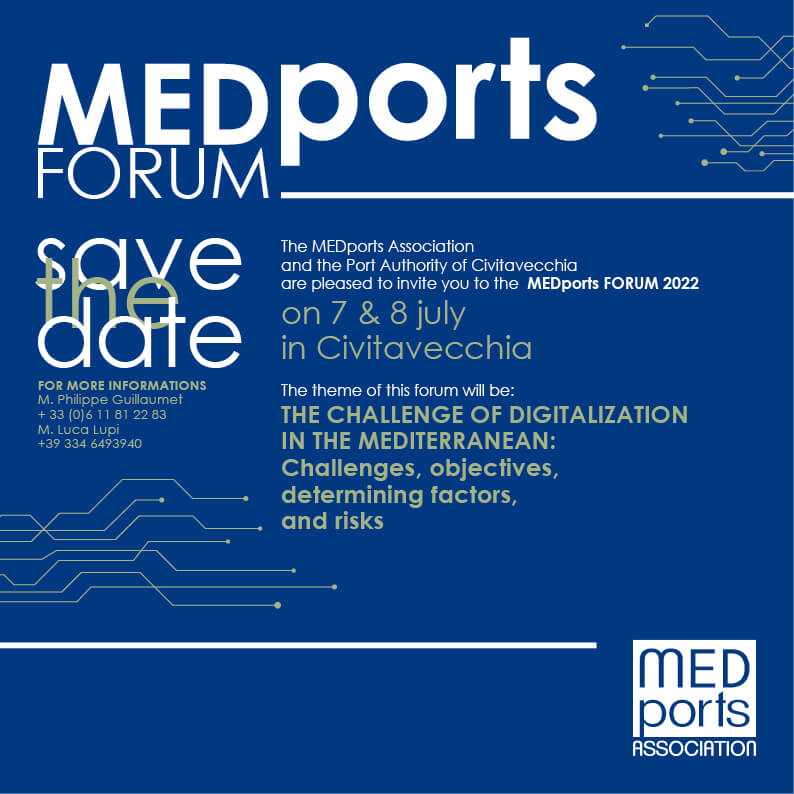 MEDPorts Association Digitalization Forum – MEDPorts Forum 2022 – will be held in Civitavecchia (Italy) on 7 th & 8 th of July 2022 and it is organized together by MEDPorts Association and Port System Authority of Central Northern Tyrrhenian Sea – Port of Civitavecchia.