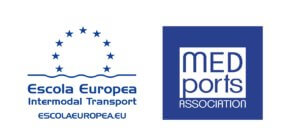 The MEDPorts Association signed a partnership agreement with Escola Europea, in the presence of Eduard Rodes in Civitavecchia with Mr. Pino Musolino, President of the MEDPorts Association.
This agreement aims to define the service provided by Escola to MEDports. The parties agree that Escola will be responsible of the development of the tasks that the MEDports General Assembly agreed on 7 February 2023 which are the following:
Preparation of a monthly newsletter of the Association (6 issues)
Support in the publication of report on matters affecting Mediterranean ports, as a map of multimodality in Mediterranean ports.
Support in the preparation of the MEDports Challenge
Any additional project or activity that the parties mutually agree to undertake, during the validity of the present agreement.
In line with its commitment to provide support to the association's General Secretariat, Escola Europea announces becoming an Associate Member to MEDPorts Association. We are looking forward to this positive collaboration with Escola Europea.